Cell C's full financial results have been made public, in a circular from soon-to-be 45% shareholder Blue Label Telecoms. This is the most detailed view that the market has had from this hither-to privately-held operator since launch in 2001. Blue Label is a listed company, and segmental disclosure would no doubt be forthcoming sooner or later. It is reassuring to its own investors that the results show a financial turn-around with the operator showing a small profit for the first time in its fifteen year history.
Although the profit is small, it comes after years of pain including a loss of R1.2 billion in the most recent year to December 2015, making the cumulative loss R26 billion. This has resulted in the balance sheet carrying a hefty accumulated debt of R27 billion.
What does it mean?
Simply put, Cell C has been given an opportunity to survive and exploit its potential as the third mobile operator in South Africa. The Blue Label deal is certainly part of that, having brought relative financial stability to the company, and a massive boost in confidence for the market, employees and investors.
The revenue trend is moderately encouraging, showing that Cell C grew its revenues by nearly 50% since 2010, during which time its market share has grown slightly from just under 10% to 11.1% if its second half of 2016 is the same as the first. It could be even better. Telkom Mobile has grown from nowhere to 3.4% in the same timeframe. Hence, between the two of them, the two minnows have taken a 14.5% revenue share from Vodacom and MTN.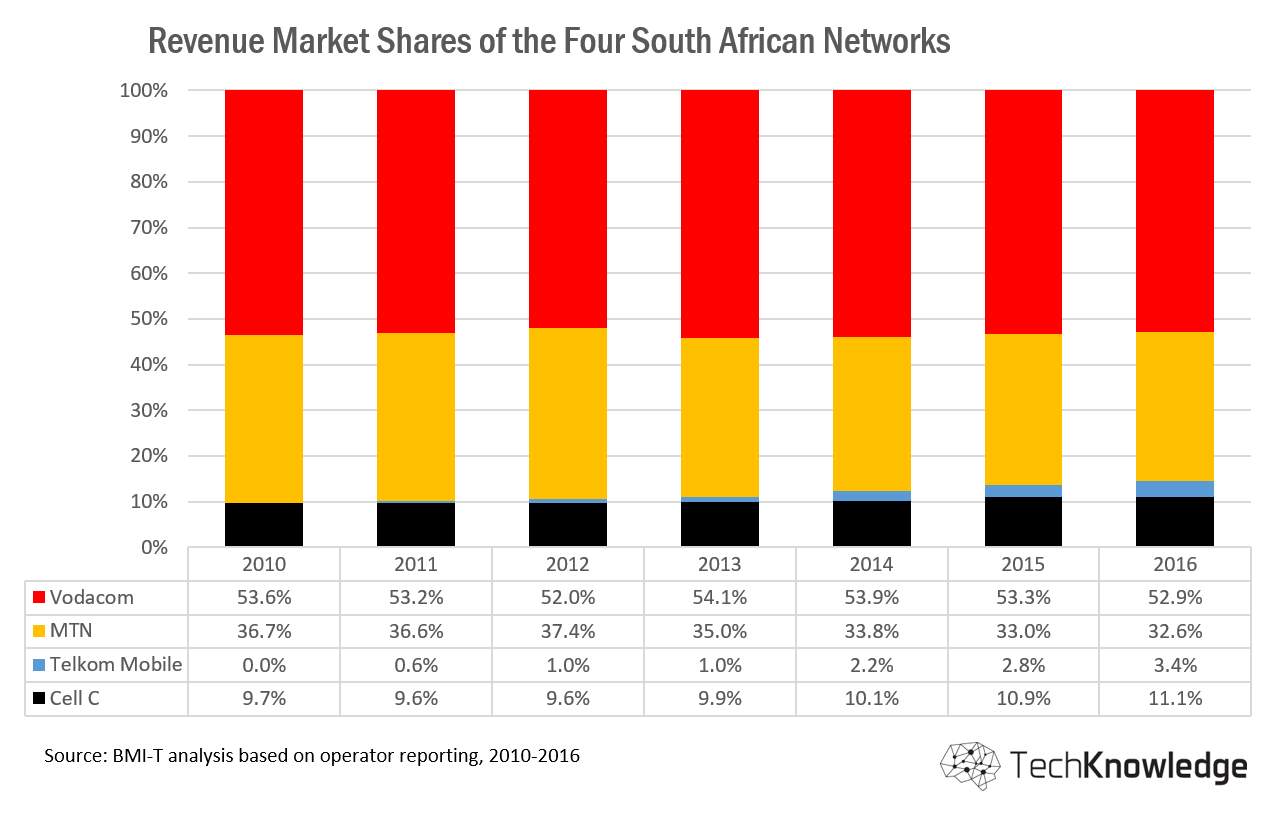 Over this period Cell C has grown its subscriber base rapidly to nearly 13 million active SIMs (3 months), a radically re-stated number. In November 2015, when Telkom expressed an interest in acquiring Cell C, the two players were reported to have more than 24 million subscribers between them, with Telkom Mobile sitting at around 2.5 million.
The newly released figure of 13 million puts Cell C at a 16% subscriber share – rather than a 25% share as previously stated – behind MTN at 38% and Vodacom at 43%. However, there have always been various ways of counting active subscribers, and the revenue and profit numbers are obviously the more important ones to focus on.
At the time the deal was announced, we were quoted as saying that the deal must have been fair to Blue Label for them to have considered it, and that Cell C is on an upward trajectory towards becoming a profitable business. The deal is also positive in as much as it brings stability for the staff, reduces uncertainty about the company's future and should act as a motivator. It seems like one of the objectives is to incentivise the staff to work together to ensure the company's success. CEO Jose Dos Santos was quoted as saying that "if the deal is approved it will become one of the largest employee ownership deals in the country. Cell C employees will then hold around 30% of the total issued share capital in Cell C". [1]
Synergies?
In an interview with Bruce Whitfield on Radio 702's Money Show, Blue Label CEO Brett Levy expressed the view that there are indeed synergies to be unlocked between Cell C and existing Blue Label and NET1 UEPS Technologies businesses – NET1 being the other partner in the deal. These synergies exist in three areas, namely distribution, customer and product. NET1, for its part, is a now global provider of services like biometric and payment technologies, and describes its goal as "to be able to provide financial inclusion to the millions of previously disadvantaged South Africans and the billions of unbanked or underbanked worldwide".
In my view, the real extent of these synergies will be revealed in due course, but even a small boost could be huge, as owning a mobile licence holds the potential to print money. A large subscriber base provides a captive audience and resultant opportunity to promote new services, including content and transactions.
In the interview Levy is also quoted on the opportunity in general, and whether the cellular market is mature. His response: "There's great opportunity; it's not saturated at all."
BMI-TechKnowledge tends to take a more conservative view, in that while the market may not yet be saturated, it is relatively mature, particularly when taking voice services into account, and noting the shrinkage in data margins. All operators are casting about for new revenue streams.
Brand strength
We are often asked about the advent of new MVNOs in South Africa, and how successful they are likely to be. Our answer always takes into account the strength of the brand, and we have made the point that the big banks and retailers are the best positioned among the new MVNOs due to their existing brand strength. Cell C also happens to host all of these virtual operators at present. But what of Cell C's own brand strength?
For its part, Cell C has become something of a consumer champion as a result of the price wars it has fought in the past few years, and zero-rating or deep discounting of data usage on leading over-the-top applications. CEO, Jose Dos Santos is quoted as saying that (unlike Cell C), "MTN and Vodacom have declared war on consumer interests."
Blue Label are taking steps to build their own consumer brand, evidenced by their sponsorship of the Springboks.
Cell C's brand is now further greatly enhanced by the investment the operator has made into its own LTE network in the major metro areas, and the very attractively priced deals it has most recently announced. Its LTE Power Plans even offer a viable alternative to fixed broadband services, with prices at under R20 a GB for capacities upwards of 15GB on contracts with a 30 day notice period. They also have 100GB and 200GB packages coming in at under R10 per GB. Compare that to R50 a GB which, until very recently, has been the industry norm.
Blue Label and NET1 have obviously taken a positive view of these tactical moves on Cell C's part. Between them they are able to offer the much needed financial support and restructuring that will stabilise Cell C and release them to exploit this brand strength in future – and hopefully continue to be the consumer's best friend – although no doubt it will make good financial sense to review this level of deep discounting eventually.
Editor's post-script: Cell C has indeed raised its data prices in January 2017
Sources
[1] http://www.fin24.com/Tech/Companies/blue-label-to-acquire-35-of-cell-c-20151210